São Paulo, Brazil – After 35 days of uncertainty and insecurity, the Brazilian government managed to rescue 32 citizens trapped in the Gaza Strip when the war between Hamas and Israel broke out on October 7.
The Brazilians left the territory of Palestine this Sunday after getting authorization to cross the border with Egypt. In the city of Cairo, they boarded a Brazilian Air Force plane that landed Monday night in Brasília, the country's capital.
"I can't believe I'm here and I'm alive. We can't believe we're finally safe. It's really good to feel safe. It's been a long time since I felt like this," said 18-year-old Shahed al-Banna. "We reached a point where we thought we would no longer be able to leave Gaza."
Upon arrival, Mohammed Jaber Ismail Abushanab, 35, and his children Anas, Leen and Ahmed, embraced in a hug that has circulated around social media. "Thank God they got here alive," said Abushanab.
His three children, aged nine, 11 and 13, had been in Gaza with their mother, Amalat, since May. According to the father, who has lived in Brazil for five years, contact became increasingly scarce after the conflict began. "We were only able to communicate every two, three, four days. But the most important thing was saving their lives."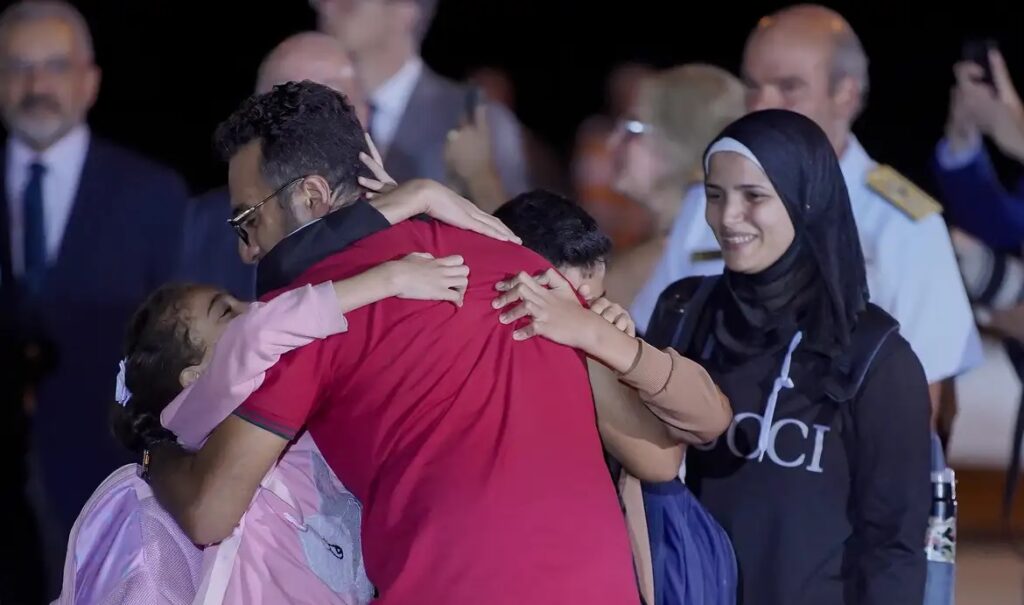 President Luiz Inácio Lula da Silva and some of his ministers welcomed the group. He said that, at 78 years old, he has seen a lot of brutality, violence and irrationality. But Lula also said he had never seen such brutal and inhumane violence against innocent people as in this war.
"If Hamas committed an act of terrorism and did what it did, the State of Israel is also committing multiple acts of terrorism by not taking into account that children and women are not at war, by not taking into account that they are not killing soldiers," he said.
Lula also said that the government will try to repatriate family members of Brazilians who remained in Gaza, even if they don't have Brazilian citizenship. "As long as there is a list and the possibility for us to remove one person, even if it is just one, we will bring them back," he said.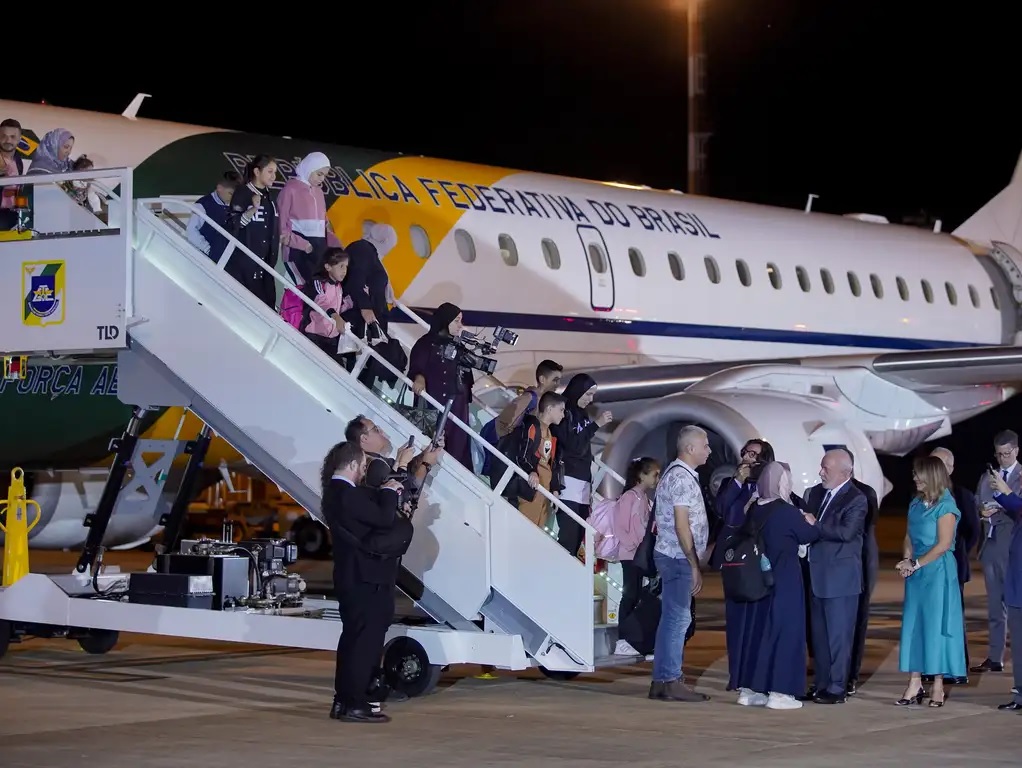 A tough journey
Since the beginning of the war, Brazil's government has been trying to repatriate its citizens in the Gaza Strip, as had already happened with Brazilians living in Israel. In less than a week, Brazil brought back 1,477 citizens who lived in or were visiting Israel when the conflict began.
Everyone returned to the country on Brazilian Air Force planes, free of charge, and were able to bring a series of personal objects and even pets. However, for Brazilians in Gaza, the situation was not that simple. Initially, the government received 34 rescue requests in Palestinian territory, but could not evacuate citizens by plane.
It was necessary to take them to the south of Gaza, cross the border with Egypt and, from the city of Cairo, take a plane to Brazil. Lula even sent his own presidential plane to Gaza, which stayed in Egypt for almost a month, awaiting authorization to board the group.
In a complex operation, the Brazilian Embassy in Palestine managed to take 34 people to the south of Gaza: 18 were waiting in two houses rented by the government in Rafah, one kilometer from the border with Egypt, and another 16 were in four apartments in Khan Yunis, 10 kilometers from Rafah.
Days passed and conditions in Gaza deteriorated. The group had to ration water and food and feared further bombings. "I'm desperate, the situation is difficult, everyone is scared, the children are crying," said Shahed al-Banna on social media.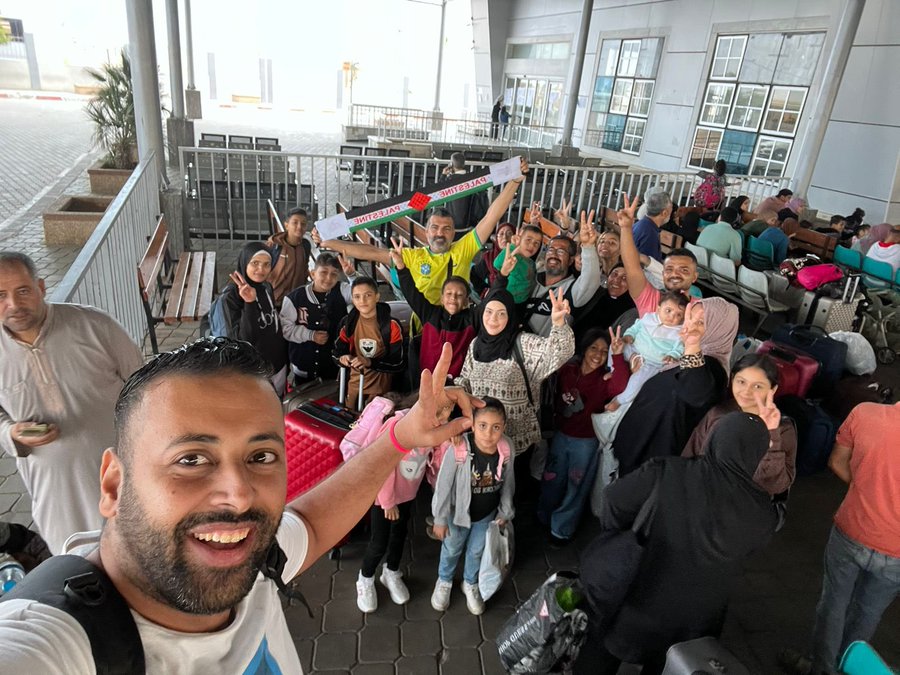 Last week, before the rescue, Brazil's advisor for international affairs to the presidency, Celso Amorim, criticized the non-inclusion of Brazilians in the first six lists of people authorized to leave Gaza via the border with Egypt.
"The situation is very complex. There was no explanation for the non-inclusion of Brazilians. They simply gave priority to other countries," Amorim told newspaper O Globo, highlighting the presence of 17 children among the group of Brazilians.
They were only included in the seventh list, released on Thursday night. Everything was ready for the group's extraction on Friday, but the border with Egypt was closed again and remained that way for two days.
Only on Sunday was the border reopened and Brazilians were able to enter Egypt. Two Brazilian women, mother and daughter, gave up on leaving Gaza at the last minute and, thus, the group was reduced to 32 people.
They were taken to the city of Cairo, where they spent the night, leaving for Brazil on Monday morning. Some of the returnees posted videos on social media celebrating their rescue and that they left Gaza safely.
"We went through a very difficult time in these 35 days," said Hasan Rabee, who was visiting his mother in Palestine when the war broke out. He returned to Brazil with his wife and two daughters. Rabee also posted a video of the Brazilians boarding the plane, highlighting everyone's "happiness" upon returning to Brazil.
The first secretary of the Brazilian Embassy in Egypt, Fernando Bastos Neto, followed the entire rescue operation and said that the 32 citizens can always count on the Brazilian State and institutions: "You will see the hug that Brazil will give you when you arrive."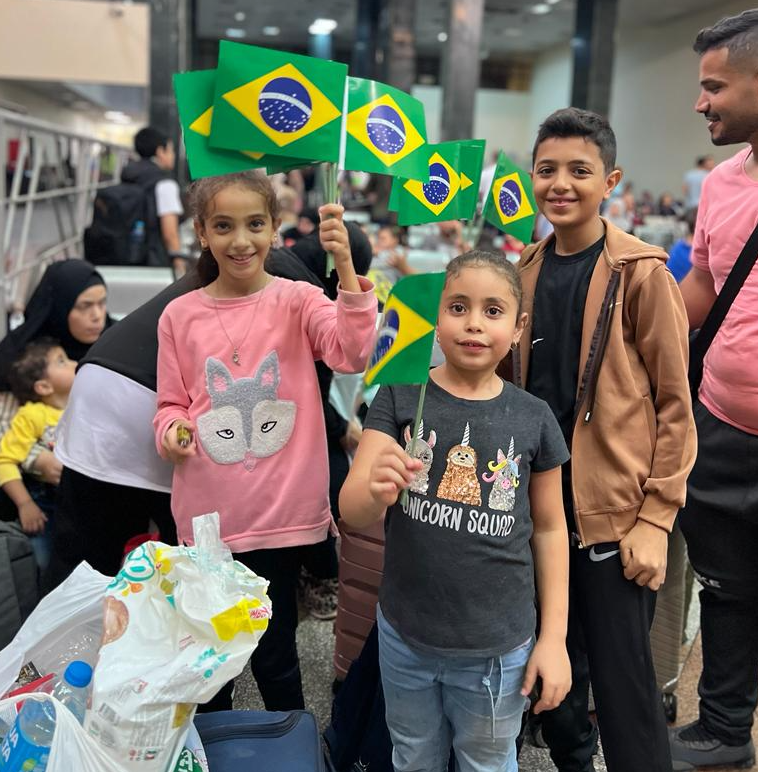 Arrival
Upon arrival in Brasília, the government had a reception operation prepared. In addition to the support of their families in Brazil, the 32 citizens have shelter, documentation and food services available, as well as psychological support, medical care and vaccination.
"We prepared a support and reception system in which identity, work permits, access to the SUS, the public health system, and the social support network for refugees are offered, in addition to the regularization of each person's situation," said Minister of Foreign Affairs Mauro Vieira at a press conference this Sunday.
"Some Brazilians already have a certain destination because they have family here, but almost half have nowhere to stay. The government has already prepared, through the Ministry of Social Development, a place where these people will be welcomed in the interior of São Paulo", added Augusto de Arruda Botelho, the National Secretary of Justice.