A friendly drop-shaped doll was one of the most popular characters in Brazil. Zé Gotinha was created in 1986 to make vaccination campaigns more attractive to children. For years, Zé Gotinha has been a symbol of a country known for having large-scale vaccination campaigns and a population that likes – and wants – to be vaccinated.
However, a recent climate of vaccine skepticism — fueled in part by government leadership, decreased funding for vaccine awareness campaigns and fake news — coupled with a lack of available vaccines, has led to falling vaccination rates in children, and some health experts worry that once-eradicated diseases could return to Brazil.
This week, the Ministry of Health launched a new polio vaccination campaign, aiming to reach at least 95% of the target population of children aged one to four years old.
The last time the ministry achieved such a rate was in 2015, when coverage was 98.29% of the target population. Since then, rates have plummeted.
In 2016 the rate fell to less than 90% and sunk again to 84.19% in 2019. In 2020, the Covid-19 pandemic impacted all vaccination campaigns and the polio vaccine reached only 76.15% of babies. In 2021, the percentage was below 70% for the first time (69.9%), which represents a worrying scenario in which three out of ten children are not protected.
The last case of polio in Brazil was registered in 1989. Five years later, in 1994, Brazil received from the Pan American Health Organization (PAHO) a certification of elimination of the disease. But, as vaccination rates have been far below 95%, PAHO recently listed Brazil as a high-risk area for the disease to return.
Therefore, health professionals have been publicly urging parents to take their children to be vaccinated.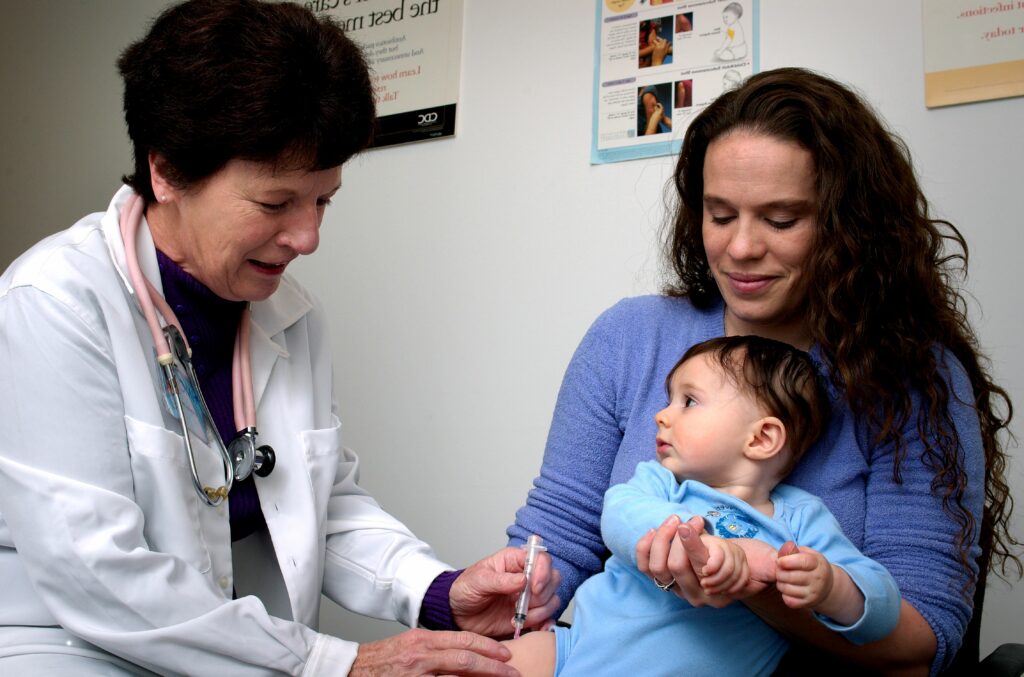 According to the Brazilian Immunization Society (SBIm), the engagement of the population is essential for Brazil to remain free from diseases that can lead to death or long-term problems: "Vaccinating is an act of affection," said the society.
Many experts blame falling rates on a lack of communication from the federal government.
President Jair Bolsonaro is not a vaccine enthusiast. On Monday, he reaffirmed in an interview that he was not vaccinated against Covid-19 and that he may have encouraged other Brazilians not to be vaccinated too.
"The Covid-19 pandemic has made clear the importance of literacy and scientific communication for both rulers and ruled," said Natalia Pasternak, president of the Question of Science Institute (IQC), a non-profit dedicated to the use of scientific evidence in public policies.
"Knowledge and understanding of science are fundamental for effective public policies, based on evidence, as shown by examples of successes such as New Zealand or failures, such as Sweden."

Natalia Pasternak, president of the Question of Science Institute (IQC)
According to the journalistic organization Repórter Brasil, the Bolsonaro government has cut more than half of advertising spending on vaccination campaigns. In 2021, R$33 million (USD $6.4 million) was invested in just two campaigns compared to R$69 million (USD $13.5 million) in 2020.
"I hear people saying there is no more vaccination campaign. We have them every year. What we don't have is communication," said the vice president of SBIm, Isabella Ballalai, to Repórter Brasil.
Fake news related to vaccines are also a reason for the drop in rates, according to the expert.
"Intentional misinformation is a public health crime. The growth of the anti-vaccination movement could destroy Brazil," said Ms. Ballalai.
Low stock of vaccines for babies
The Bacillus Calmette–Guérin, known as BCG, is one of the first and most important vaccines for newborns. It protects, for example, against severe forms of tuberculosis. However, BCG vaccination coverage is also dropping, with just a 69.05% coverage rate in 2021, when the ideal would be at least 90%.
What's more, there is a lack of vaccines in many cities. In Sorocaba, in the interior of São Paulo, since July, the application of BCG has been done only by appointment.
In Campinas, the third largest city in São Paulo, vaccination takes place only on specific days and times.
In May, the Ministry of Health informed the states that it would reduce the number of monthly doses from 1.2 million to 500,000 due to difficulties in purchasing the vaccine. At the time, the government denied the shortage and promised to normalize stocks by September.
SBIm said that logistical and import failures are compromising vaccine coverage against tuberculosis in babies. In 2022, the rate at which target ages are being vaccinated is just 55.81%.
"We have the circulation of tuberculosis among adults in Brazil, and children, who are without the protection of BCG, are at risk of being infected and having severe cases," said Ms.Ballalai.
Children's vaccination against Covid-19
In July, the National Health Surveillance Agency (Anvisa) approved the Chinese manufactured Coronavac vaccine for use in children aged three and four years old. The vaccine has been used on Brazilian adults since January 2021.
Although the immunization has been approved for use on children, Brazil is experiencing a dearth in availability. Rio de Janeiro, for example, announced the suspension of child vaccinations due to lack of doses.
Childhood Covid-19 vaccinations began just this year in Brazil but the government has been slow to acquire pediatric doses and the vaccination campaigns were reportedly targeted by Mr. Bolsonaro.
The president has questioned the authorization of childhood vaccination by Anvisa and said he would not take his 11-year-old daughter to be vaccinated.
A survey by the DataFolha Institute showed that 58% of Brazilians believe that the president hinders rather than helps children get vaccinated against the coronavirus.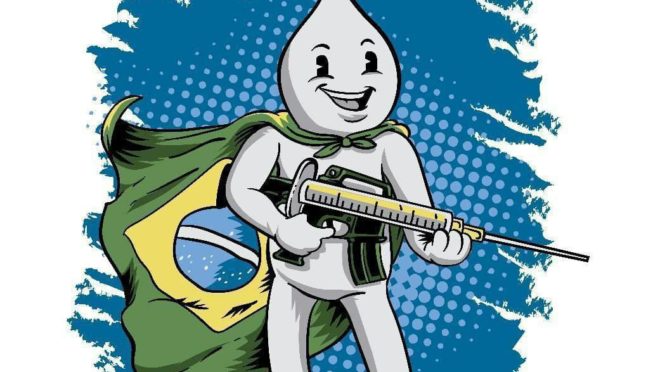 Where is Zé Gotinha?
"Where is Zé Gotinha?," asked former president Luiz Inácio Lula da Silva in March 2021, when Brazil had already begun vaccinating against Covid-19 and the character wasn't seen anywhere.
Two days later, the son of the president and federal deputy Eduardo Bolsonaro published an image of Zé Gotinha holding a syringe-shaped rifle. The image was widely shared among Bolsonaro supporters.
But it was also criticized by the creator of the character. "Zé Gotinha with a gun is a bad example. He was created to be a 'good guy'", said artist Darlan Rosa. 
Zé Gotinha, a symbol of a reference country in vaccination, has been all but abandoned by Bolsonaro's government.