São Paulo, Brazil — On his first day in office, President Luiz Inácio Lula da Silva met with 10 heads of state and foreign dignitaries to strengthen Brazil's relationships abroad. The president promised to resume dialogue, especially with South American countries, that was deprioritized during the administration of former President Jair Bolsonaro.
Initially, Lula's agenda had 17 bilateral meetings with representatives from Asia, Europe, Africa and Latin America, who attended his inauguration on Sunday. But, because of some delay, the Brazilian president was only able to meet 10 heads of state. "Unfortunately, there was a lack of time with so many good conversations. We will have other opportunities. The world missed Brazil," said Lula via Twitter on Monday.
The President met with King of Spain Felipe VI, as well as the presidents of Bolivia, Guinea Bissau, Argentina, Ecuador, Chile, Portugal, Colombia and Honduras, along with the Vice President of China Wang Qishan, who delivered a letter from President Xi Jinping reportedly expressing his "willingness to expand cooperation" with Brazil.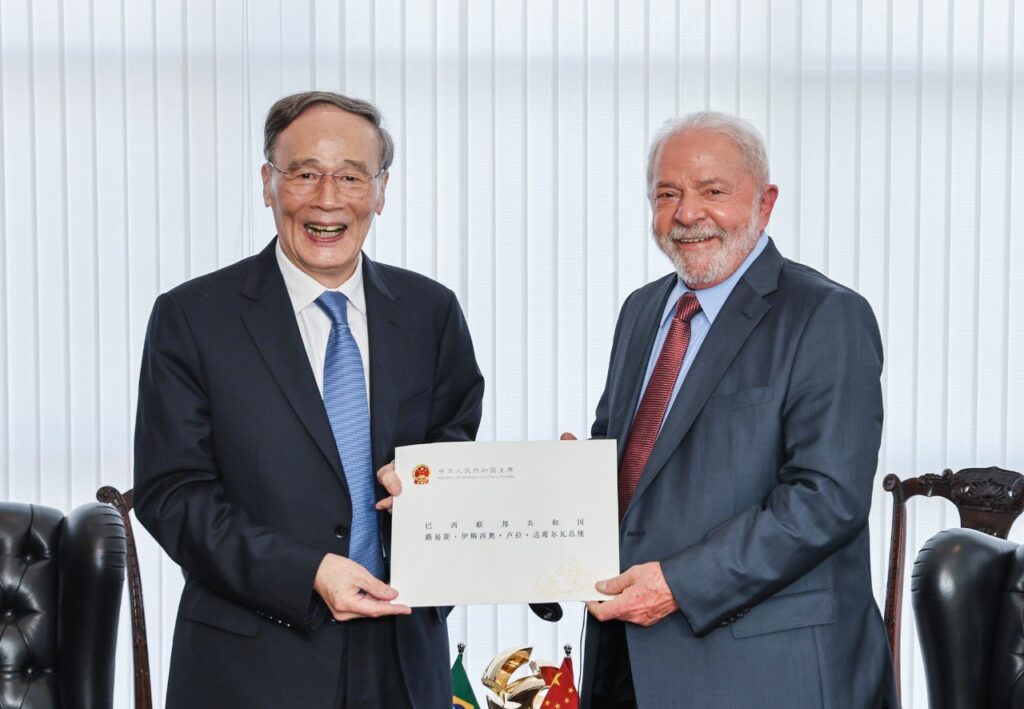 With the president of Bolivia, Luis Alberto Arce Catacora, Lula reportedly discussed a collaboration in social policies, energy and fertilizer supplies. In a conversation with Umaro Sissoco Embaló, the president of Guinea Bissau, Lula said that "Brazil will again have Africa as a priority in its relations with the world."
In the meeting with Gustavo Petro, President of Colombia, Lula addressed the need to unite the Amazonian countries to protect the environment and to move forward with energy integration in South America. During his final meeting of the day with Honduran President Xiomara Castro de Zelaya, Lula discussed the fight against poverty.
"Brazil is missed"
After leaving his meeting with Lula, Portuguese President Marcelo Rebelo de Sousa said that Brazil "is greatly missed" on the international stage, referencing the four years of isolationist policy under the Bolsonaro government. Sousa said he expects "a lot of new things" in the relationship with Brazil, and  "a Brazil that is more present on the international scene."
The president of Argentina, Alberto Fernandéz, with whom Bolsonaro did not have a good relationship, said that he agreed with Lula to resume relations between the two countries.
"From an institutional point of view, it was a great meeting, also because we clearly decided to put the link between Argentina and Brazil in motion with all the strength that this link has always had," he said.
The president of Chile, Gabriel Boric, said that one of the subjects discussed in the conversation with Lula was the situation in Venezuela. Boric defended the country's reintegration into international forums.
"For the solution of the crisis in Venezuela, it is important to reincorporate them into multilateral circuits," said the young Chilean leader.
"Problems are not solved by isolating countries, but by incorporating them and strengthening democracy."
Another meetings in the first semester
Lula already has trips scheduled for the first semester of 2023. At the end of January, the president will travel to Argentina and meet again with President Fernandéz.
In February, there are talks of Lula traveling to the United States to meet with President Joe Biden, who also did not maintain a good relationship with Bolsonaro.
The former Brazilian president, closely linked to Donald Trump, was one of the last world leaders to recognize Biden's victory in 2020. Since his election, Biden hasn't come to Brazil and met Bolsonaro only once, in June 2022.
Between March and April, Lula is tipped to travel to China, Brazil's biggest trading partner, to meet with President Xi Jinping. At the end of April, Lula will go to Portugal to participate in a tribute to Brazilian singer Chico Buarque.