Celebrations for the 200th anniversary of Brazil's independence were marked with strong political rhetoric, and supporters of President Jair Bolsonaro used the occasion to hit the streets and show their support for their leader ahead of October elections.
In the capital Brasília, the day began with a traditional civic-military parade marking the 7th of September, the day when Brazil gained independence from Portugal two centuries ago.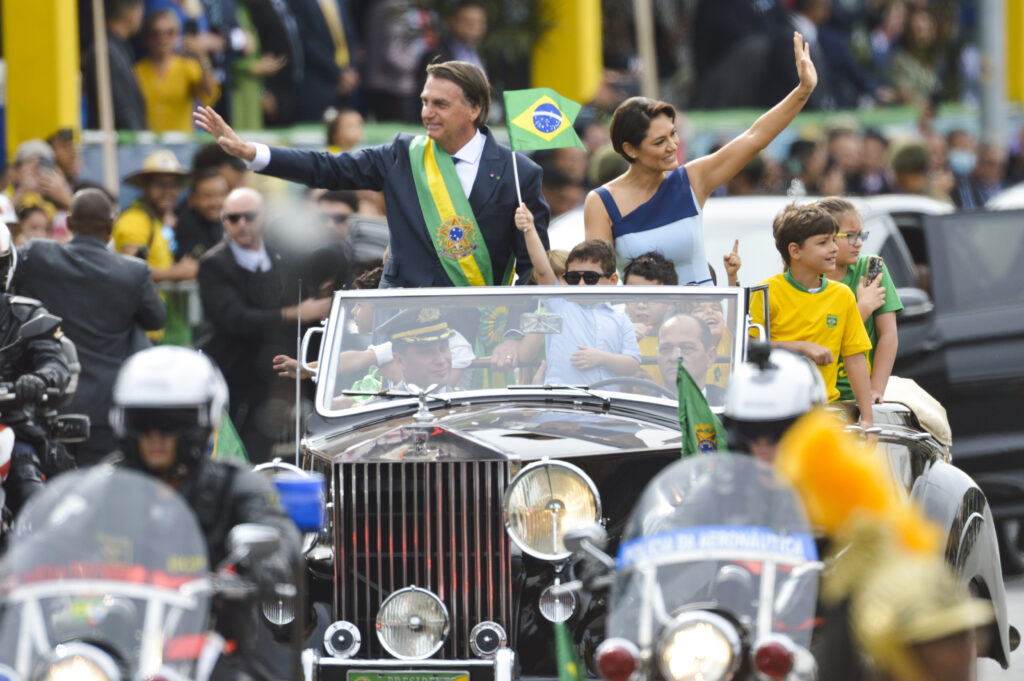 Thousands of people crowded in the Ministries Esplanade to watch the passage of armoured vehicles, troops, and military bands, and President Jair Bolsonaro was paraded in an open car alongside first lady Michelle Bolsonaro.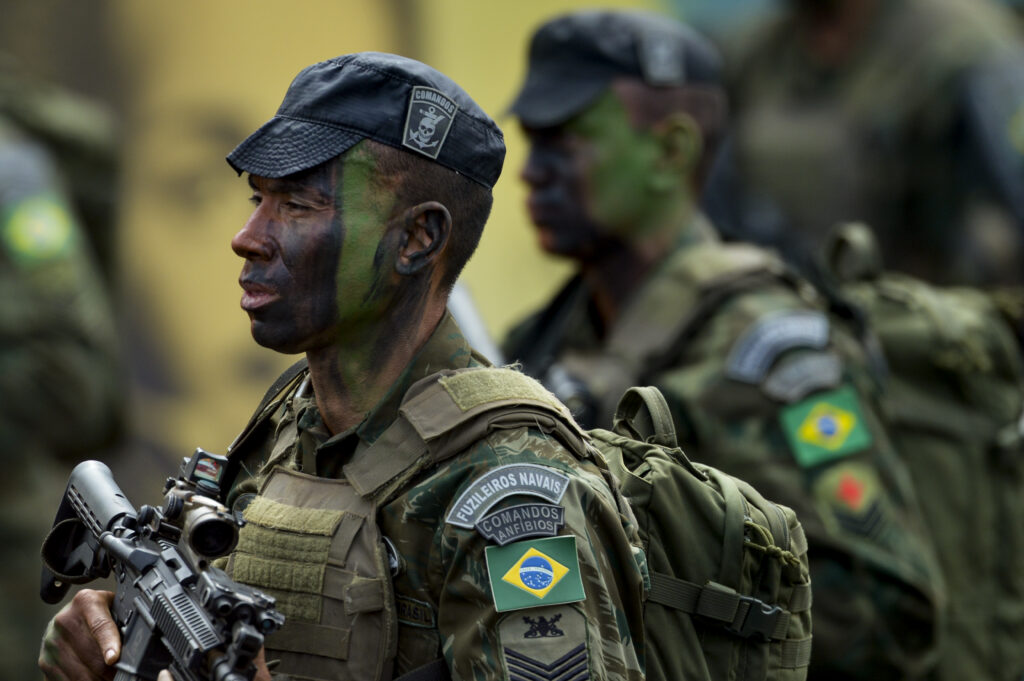 After the parade, Mr. Bolsonaro addressed the crowd of supporters who had gathered under the hot sun.
Instead of a protocol speech extolling Brazil's independence – as is tradition for leaders on such occasions – Bolsonaro used the celebration to promote his campaign for re-election. At one point, he even openly asked for votes.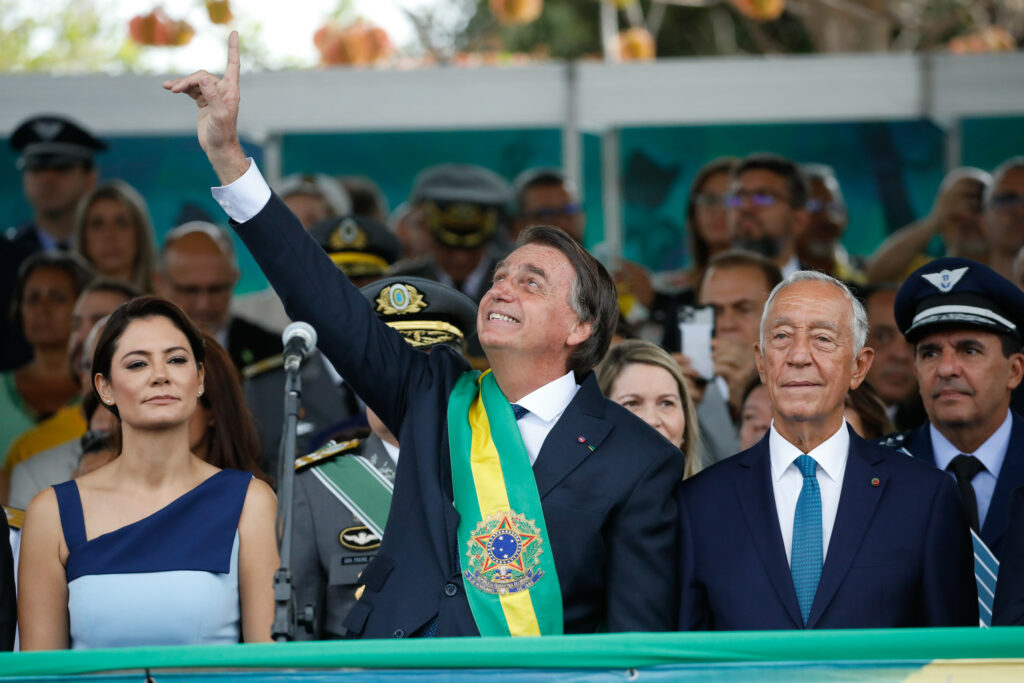 "The will of the people will be present on October 2nd. Let's all vote, let's convince those who think differently from us, let's convince them of what is best for our Brazil," the president said.
He also referred to his presidential race against former President Luiz Inácio Lula da Silva as a fight between good and evil.
"We know that we have ahead of us a fight of good versus evil, an evil that lasted for 14 years in our country, that almost broke our homeland and that now wishes to return to the scene of the crime," the president said. "They will not return. The people are on our side. The people are on the side of good. The people know what they want."
Former President Lula, who has led all electoral polls released thus far, was also targeted by Bolsonaro's supporters in other corners of the country.
Pro-Bolsonaro demonstrations seen across the country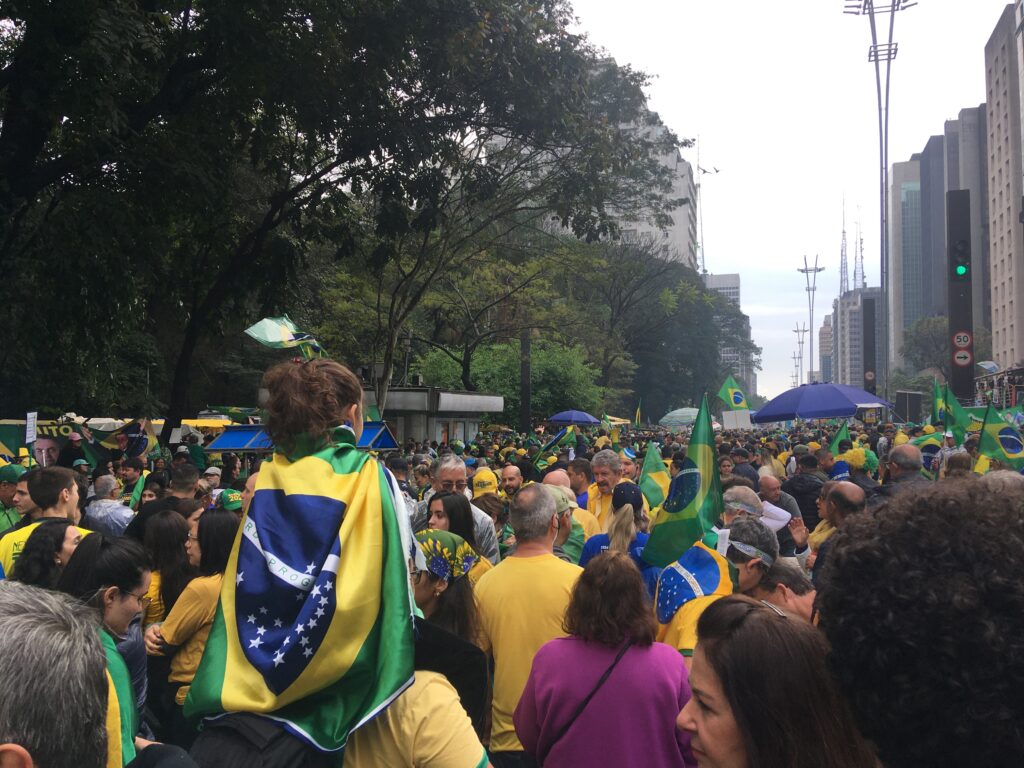 Large demonstrations in support of President Bolsonaro took place in big cities across Brazil. 
According to the São Paulo state government, the protest there gathered around 50,000 people, and no incidents of violence were reported.
In Rio de Janeiro, a demonstration attended by President Bolsonaro on the edge of Copacabana beach reportedly attracted around 100,000 people.
In São Paulo, Brazil Reports visited Paulista Avenue, a main thoroughfare and financial hub of the city, where pro-Bolsonaro protesters marched down the avenue bathed in green and yellow, waving flags and banners with slogans defending God, family and their moral values.
Families, including children and the elderly – demographics not often seen at political protests – were noticeably present during the march.
One of these families spoke with Brazil Reports.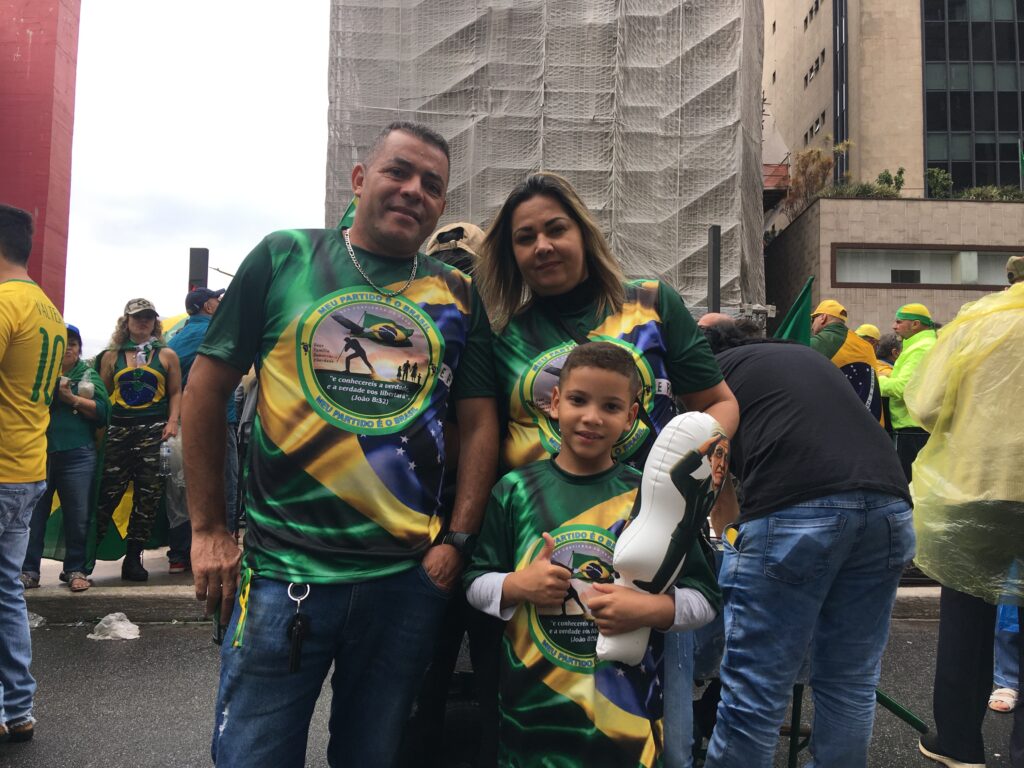 Jair Bario, a self-employed professional, said it was important to bring his wife and son to the protest "especially because of Brazil's independence" and also to show "positive support against the left, in favor of our President Jair Bolsonaro."
Mr. Bario said he was supporting Mr. Bolsonaro in the October 2 elections "to give continuity in progress, jobs, family, and to get rid of everything that is bad. The PT (Workers' Party) has to be far away from us. Ideology and Brazil above all, and God above all," he added, quoting a popular Bolsonaro campaign slogan.
Anti-communist slogans during the parade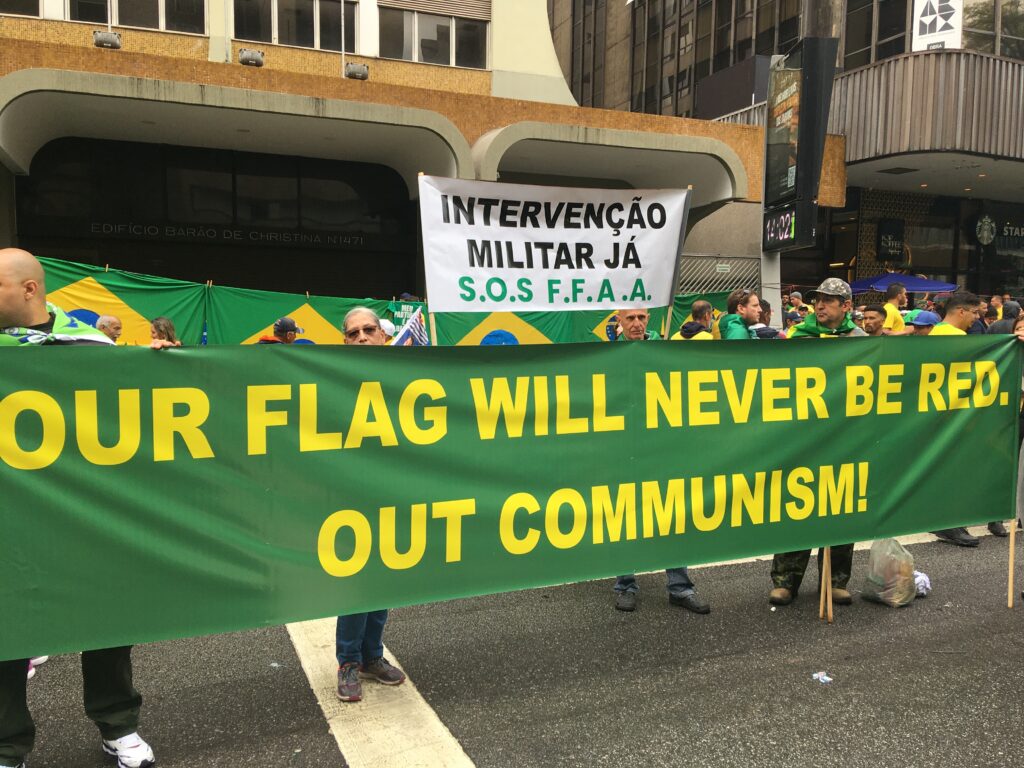 Despite the fact that Brazil has never lived under a communist government, slogans, including in English, preaching against the potential installation of a communist regime, were some of the most common messages on posters during the protests on Paulista Avenue.
Gripping an anti-communism protest sign, Eduardo Pires, and agronomist and farmer, told Brazil Reports, "We are here defending the values of family, our homeland, Christianity, pro-life ideals against abortion, and against communism. We are defending the values of the Brazilian nation."
Mr. Pires weighed in on criticisms of the pro-Bolsonaro protests on independence day being undemocratic. (At the rally on Paulista Avenue, signs calling for military intervention in the government and the disbanding of the Supreme Court were prevalent.)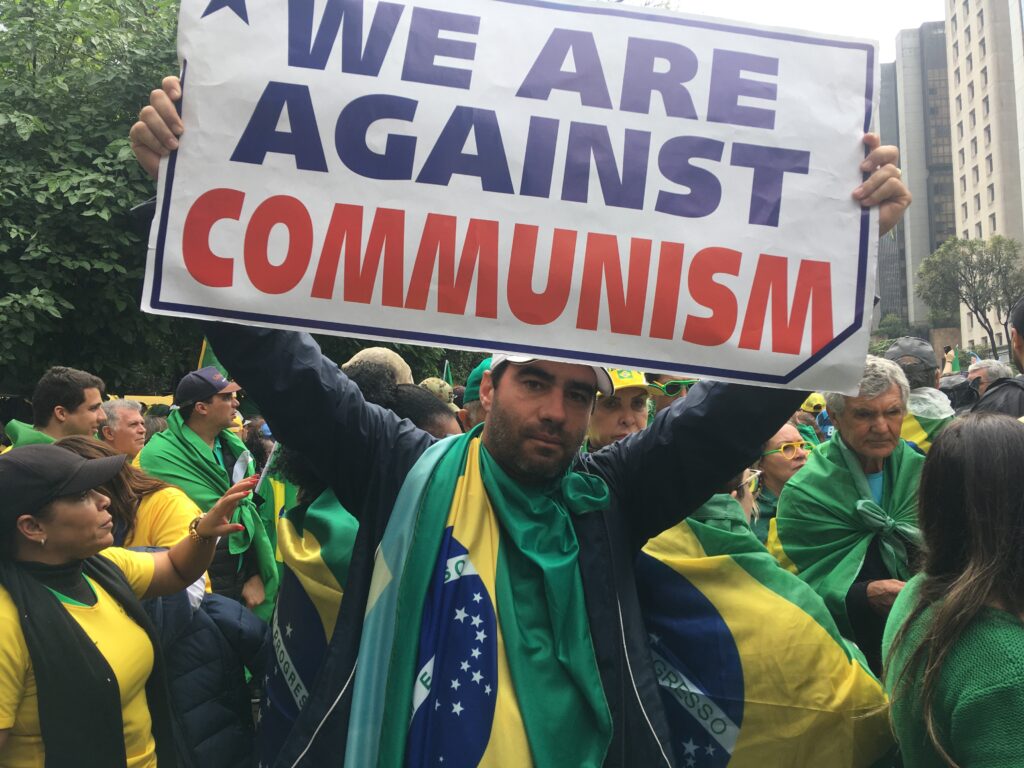 "The mainstream media says this is an anti-democratic demonstration. How anti-democratic? Democracy is this here," said the agronomist. "The voice emanates from the people, people are supreme, not the ministers of the Supreme Court. The people decide what they want, what they want for their family, for their children, we are against communism. We are a free country."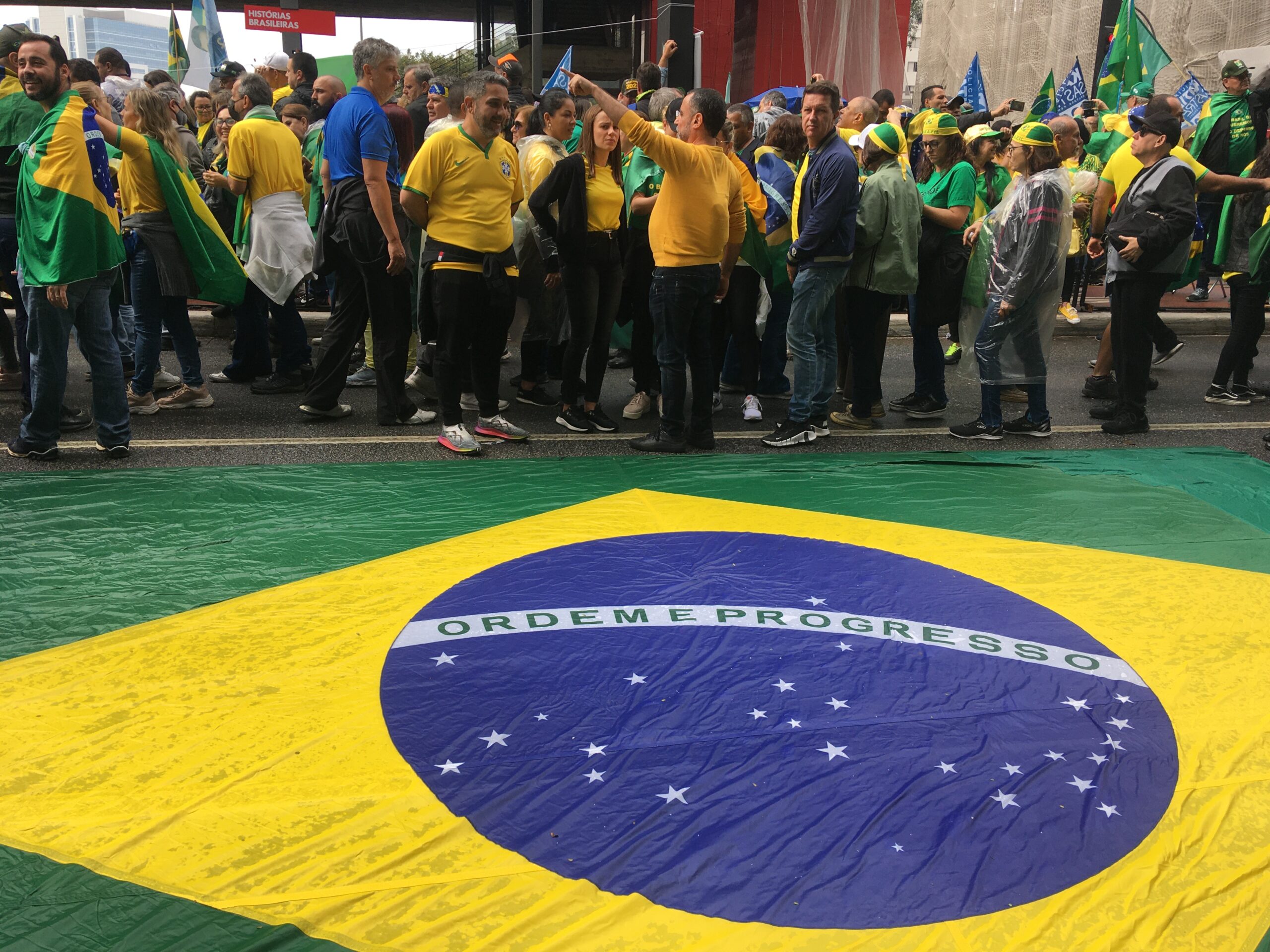 Conservatism and religious values were also top of mind for protesters on Paulista Avenue.
For artisan Célia Regina Piva, the survival of these ideals depends on Bolsonaro's reelection.
"This is important and has to be passed on to the whole world because we are depending on this day today, as President Bolsonaro said, maybe today is the last September 7th [independence day] for us."
Her husband, José Piva, an accountant, also championed a second Bolsonaro administration.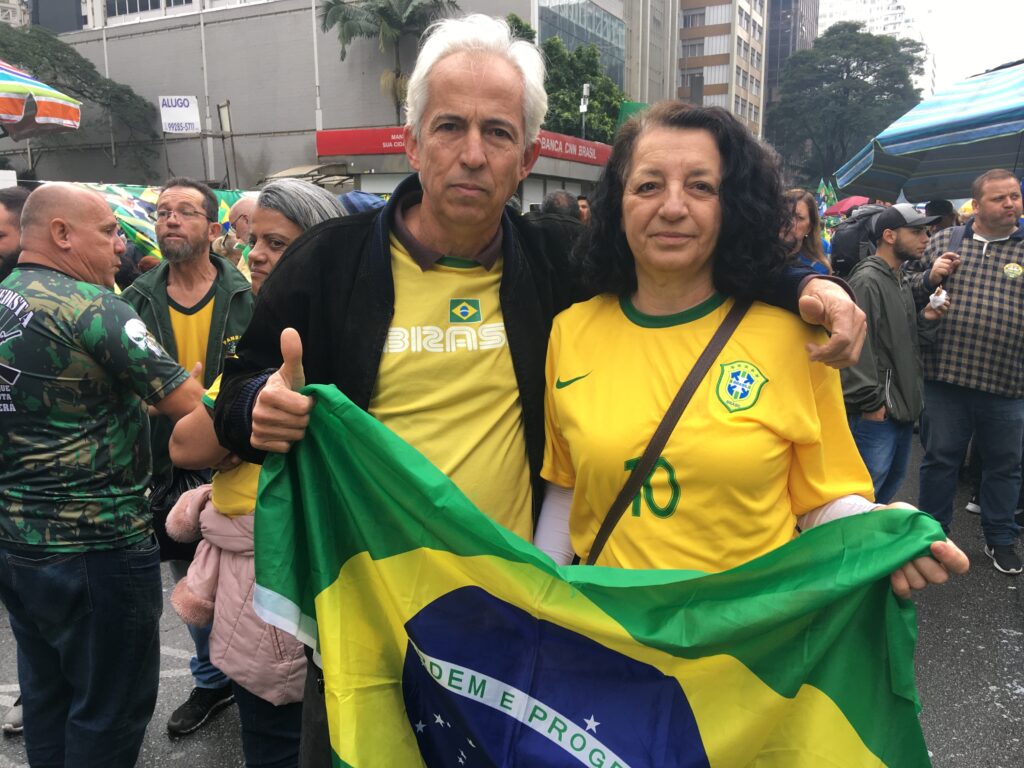 "We will be free of corruption, of the gender ideology they are trying to put into our children's heads, and against this leftist group that wants abortion in Brazil," he said. "We are Christians and we are against abortion. It is super important that Bolsonaro continues, he is doing a wonderful job and he is in favor of God, homeland, family and freedom. These are four wonderful pillars of society. He stands for that and we stand for that too."