São Paulo, Brazil — Brazil's outgoing President Jair Bolsonaro did not attend the inauguration of his successor, Luiz Inácio Lula da Silva, on Sunday, breaking a long-standing tradition that symbolizes the peaceful transfer of power.
On December 30, the right-wing president traveled to Orlando, Florida, where he's reportedly staying at the home of Brazilian mixed martial artist Jose Aldo. He is expected to stay in the United States for at least one month and is facing numerous investigations in Brazil from his time in office.
Instead of the Brazilian tradition of the outgoing president passing the presidential sash to his successor at the Palácio do Planalto in the capital Brasília, Bolsonaro largely avoided commenting on Lula's inauguration throughout Sunday.
Instead, he signed autographs, took pictures, and received compliments and gifts from his supporters in Orlando.
"Go back to Brazil, take over the office, president," said a supporter, who did not receive a response from the former president.
Bolsonaro on Sunday posted a short video on Twitter about the achievements of his government.
Bolsonaro's son, Eduardo Bolsonaro, did take to social media to criticize the incoming president.
"For those who say that communism does not exist, look for a Brazilian flag there," wrote the younger Bolsonaro on his Twitter account alongside a photo of citizens attending the inauguration ceremony in the capital.
Eduardo Bolsonaro also posted an image with the text, "get out, Lula."
Statement by the former vice president
In leaving to the United States on December 30, Bolsonaro's Vice President Hamilton Mourão became acting president.
An army general, Mourão on Saturday made a seven-minute speech on radio and television that displeased Bolsonaro's allies.
Mourão criticized leaders who, "with silence," allowed a climate of disintegration to grow in the country, and called out Bolsonaro supporters who had been pressuring the army to intervene in elections, camping out in front of military barracks for weeks.
"Stay calm! Let's return to the normality of life, to our tasks and to our homes," said Mourão.
He also defended Brazilian democracy and said that "the alternation of power in a democracy is healthy and must be preserved."
Bolsonaro did not respond to Mourão's remarks, but his sons went on social media to criticize the former vice president.
"Nothing new coming from what I always said was a piece of s*," wrote Carlos Bolsonaro. "The mask's always fall off," said Eduardo Bolsonaro.
Mourão also did not attend Lula's inauguration.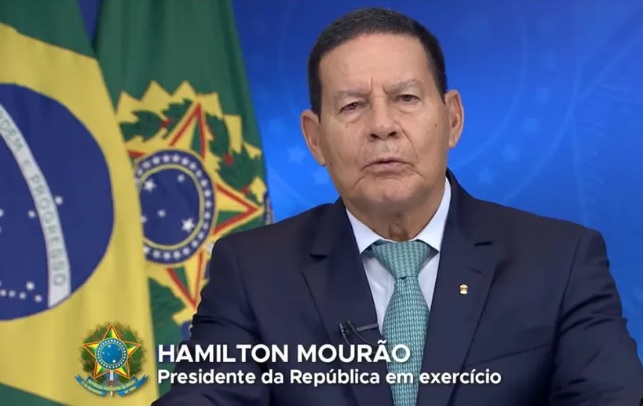 And now?
It is not known how long Bolsonaro will stay in the United States or what will be of his political career after leaving the presidency. He was the first president not to be re-elected since re-election was allowed in Brazil in 1997.
Bolsonaro's party, the Liberal Party (PL), has already set up an office in Brasília for the former president to work. His house must also be paid for by the party.
Read more: "We are not going to be all or nothing" — Bolsonaro calms supporters hungry for a coup
In a livestream made before leaving the country, Bolsonaro confirmed that he will make a tough opposition to Lula and indicated that he would not leave public life.
"The battle is lost, but we will not lose the war," said the former president.