In a recent op-ed published by British newspaper The Guardian, academics, researchers, students and graduates from across the UK have signed a petition to denounce what they refer to as "attacks on freedom of expression" in 20 of Brazil's state universities.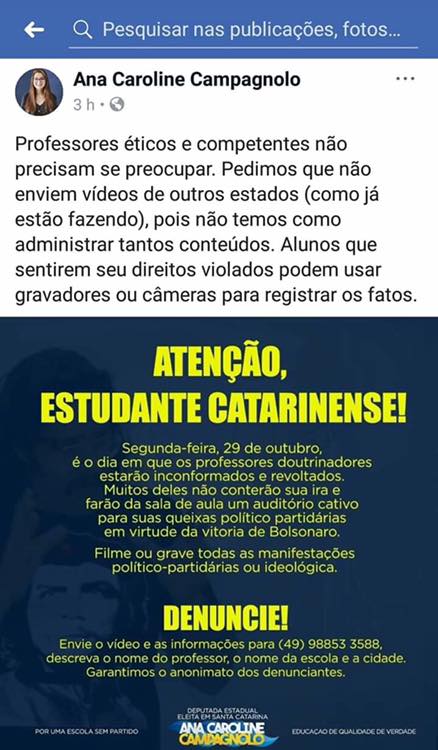 Last week, newly-elected state representative Ana Campagnolo launched a social media campaign encouraging students and other members of staff to denounce "indoctrinator teachers," who express any opinions against Jair Bolsonaro's presidential victoryon October 28.
"Pupils who feel their rights have been violated may use cameras or video recorders to register the facts," read the Facebook post, encouraging pupils to record evidence of anything that "humiliated or offended their freedom of faith and conscience."
Campagnolo, elected as a state deputy for the region of Santa Catarina located in the south of Brazil, was anti-PT, according to O Globo columnist Lauro Jardim.
Her social media campaign, however, came a few days after numerous state universities had experienced official intervention in the electoral build-up that ended in the confiscation of electoral propaganda and some teaching material.
In fact, just days before the final electoral vote, Rio de Janeiro's Universidade Federal Fluminense (UFF) saw a banner with an anti-fascist symbol removed from a campus building by police, which judges later determined constituted 'anti-Bolsonaro' political propaganda.
In response to police actions, students replaced the banner with one that read "censurado," which translates to "censored."
Similar incidents included police interruptions of social science classes at the State University of Pará, northern Brazil, in order to verify the ideologies of the teaching professor. Mato Grosso do Sul's Universidade Federal de Grande Dourados also experienced the forcible cancellation of an event titled 'An Open Class on Fascism.'