Marielle Franco was black, bisexual and grew up in Rio de Janeiro's Maré favela. Through her work as a councillor for the city of Rio de Janeiro, feminist and human rights activist, she stood for each one of these minority groups in Brazil.
It has now been over a month since the 38-year-old was brutally murdered whilst travelling home by car, having suffered four gunshot wounds in a planned assassination that also took the life of her driver, Anderson Gomes.
Recently, the population of Brazil has been more politically divided than ever. However, Brazilians have been united in mourning for Marielle, whose death shook the country to its core. Those grieving have continually gathered in protest over the course of the last month, not just in Brazil but in cities across the world. "Marielle, Present!" has become a rallying cry and social media handle that is now plastered around the streets of Brazil and all over the internet.
Franco leaves behind a daughter, 19-year-old Luyara Santos, whom she gave birth to when she was the same age and raised as a single mother. Through social media, the teenager shared a defiant message, "we'll be the resistance because you were the struggle! I love you."
Franco also leaves behind fiancée Mônica Benício, whom she was due to marry next year. Both grew up in the Maré favela and had been together for almost 13 years. In an interview with The Guardian, Benício tried to explain the complexity of her grief, "There are two Marielles: the one we are all out on the streets shouting is alive and the Marielle who is my companion and who I still haven't managed to mourn."
Franco studied at the Maré Centre for Studies and Solidarity Action (CEASM). She then won a scholarship to study for a social sciences degree at the PUC (Pontifical Catholic University of Rio) and later a master's in public administration. Her decision to become an activist was sparked by the death of a close friend, who was killed in the crossfire between police and drug traffickers in Maré favela in 2006. Since then, she managed to enter into Rio de Janeiro's historically white and male dominated political sphere, presenting 16 projects to change laws. The night she was killed, Franco had been speaking on the panel of an event entitled "Young Black Women Who Are Changing Power Structures."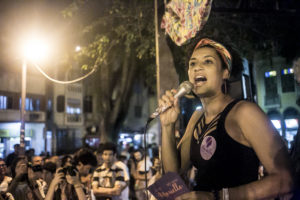 Franco publicly spoke out against police presence in Rio de Janeiro's favelas, which has increased since current president Michel Temer's decision to place state security under military control in February. One of her last tweets before she was assassinated criticised Rio's Military Police, as she insinuated that they were responsible for the murder of Matheus Melo, a young man shot as he was leaving a church in the Acari favela.
The Brazilian government is yet to find out who was responsible for the death of Marielle. Indignant at the length of time it is taking to get to the bottom of this mystery, a week ago, Amnesty International called upon authorities to "conduct a prompt, thorough, impartial and independent investigation that not only identifies the shooters, but also those who ordered the killing."
Alternative journalism publication the Intercept Brasil has alluded to the significance of the presence of a militia member in the Câmara dos Deputados (the UK's equivalent to the House of Commons) just days before Marielle was killed. Cristiano Girão Matias, a reported member of a militia group that Marielle investigated back in 2008, was registered to have entered the building at 12.09pm on the 7th March, a week before the assassination. Some believe her killing was ordered by these criminal gangs.
In Brazil, 60,000 homicides take place every year, of which only eight-10 percent are resolved. A portion of these deaths involve those who fight for the rights of others. For example, Amnesty International reported that 58 human rights defenders were killed in Brazil in 2017. However, according to Maurizio Giuliano, director of Brazil's United Nations Information Centre, Afro-Brazilians are particular targets, with one dying every 21 minutes. In an interview with the BBC, he pointed out, "levels of violence in the city and especially in the favelas are extremely high. And, Afro-Brazilians are those who suffer the most from this." In a speech she gave the night she was killed, Franco echoed Giuliano's concerns, "we are dying, our people are dying," she said.
Now, more than a month since Franco's murder, her daughter, fiancée, 46,000 voters, along with everyone who knew her, ask themselves the same question Franco shared with her Twitter followers the day before she died: "how many more need to die for this war to be over?"