São Paulo, Brazil — Twelve years after leaving power, 77-year-old Luiz Inácio Lula da Silva took office this Sunday for his third term as president of Brazil. His predecessor, Jair Bolsonaro, was noticeably absent from the power transfer ceremony.
During a large ceremony in the capital Brasília, Lula, his Vice President Geraldo Alckmin and their families were paraded through the Esplanada dos Ministérios, the main governmental thoroughfare, in the presidential automobile, a 1952 Rolls-Royce Silver Wraith.
Security was tight due to threats from supporters of outgoing President Bolsonaro, including a thwarted bomb plot which reportedly targeted the capital's main airport on Christmas Eve.
Read more: Brazil officials on high alert ahead of Lula's inauguration after bomb plot uncovered
Around 10,000 military and police officers were dispatched to the inauguration ceremony, which ended without incidents of violence. The approximately 300,000 people who attended passed through several security checkpoints.
Upon arrival at the Esplanada dos Ministérios, Lula and Alckmin were greeted by Arthur Lira, the president of Brazil's Chamber of Deputies, and Rodrigo Pacheco, president of the Senate and National Congress.
Lula and Alckmin were sworn in during a plenary in the Chamber of Deputies, Brazil's lower house of congress.
Respect for the environment, indigenous peoples and democracy
In his address to the Chamber, which lasted just over 30 minutes, Lula spoke about his plans to rebuild Brazil. According to the leftist leader, in recent years the country has suffered systematic attacks on rights that have hindered the development of the country.
"Our message to Brazil is one of hope and reconstruction," he said. "The great building of rights, sovereignty and development that this nation built since 1988 has been systematically demolished in recent years. It is to rebuild this building of rights and national values ​​that we will direct all our efforts."
Lula briefly outlined a presidential agenda that will focus on social inclusion, investments in education, as well as environmental protection. He said that Brazil will no longer tolerate deforestation, and the degradation and violence against indigenous peoples — adding that he would restart the process of demarcating indigenous lands which was stalled under President Bolsonaro.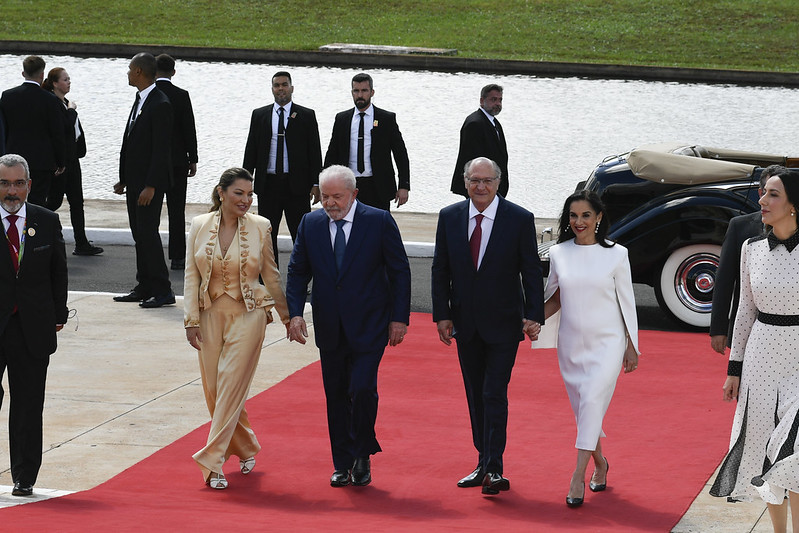 "Each demarcated land is a new area of ​​environmental protection," said Lula. "We owe respect to these Brazilian men and women (indigenous people) and we owe them a historic debt. We will repeal all injustices committed against indigenous peoples."
Read more: The Future of Funai (Part 2): What Funai officials and indigenous protectors are expecting from Brazil's incoming government
The new president also took aim at his predecessor's policy of making it easier for Brazilians to obtain firearms. Instead of guns, Lula said that what Brazil really needs is books, education, and culture, not weapons.
Bolsonaro noticeably absent from power transfer ceremony
After addressing the Chamber of Deputies, Lula and Alckmin made their way to the Palácio do Planalto, the official workplace of the president of Brazil.
In a gesture meant to symbolize the new president's commitment to all sectors of Brazilian society, Lula ascended the palace ramp alongside a Black child, a young man with disabilities, a stray dog as well as Raoni Metuktire, chief of the Caiapó indigenous people and one of the world's leading indigenous rights activists and environmentalists. At 93 years old, Chief Raoni is regarded as one of the Amazon's greatest protectors. (Traditionally, presidents in Brazil ascend the palace ramp only with their family).
Noticeably missing from the ceremonial transfer of power was Bolsonaro, who landed in Orlando, Florida hours before the events began. The former president will reportedly be staying in the United States for at least a month, and is facing numerous investigations in Brazil from his time in office.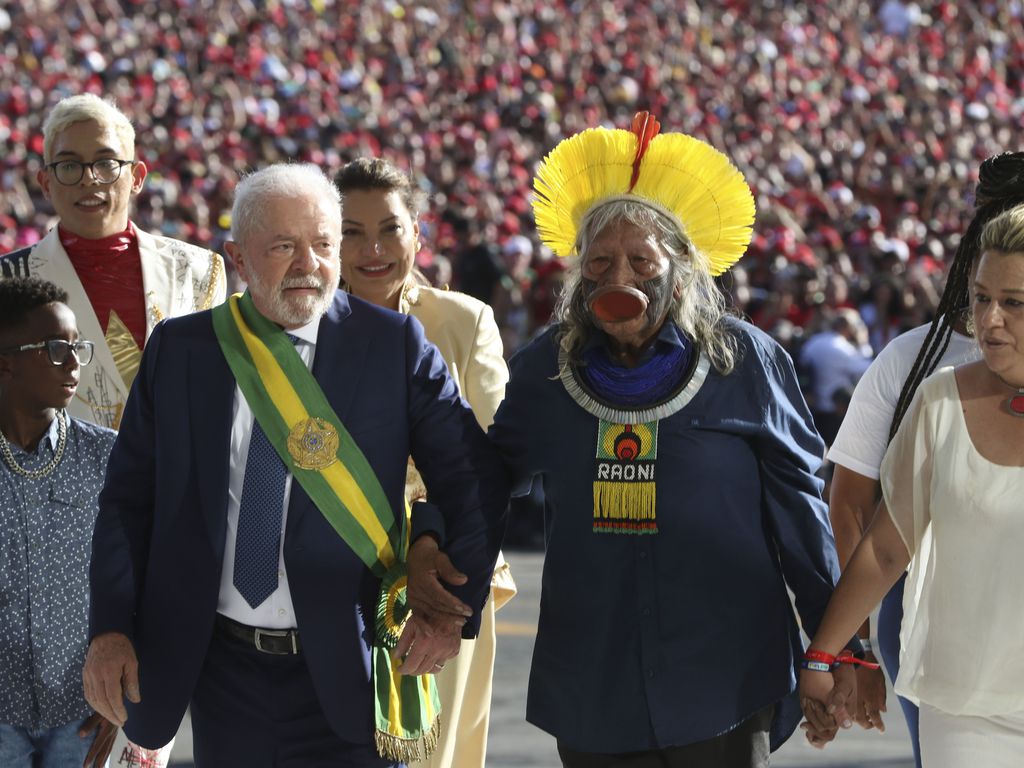 It's Brazilian tradition that the outgoing president pass the presidential sash to the incoming president as a symbol of the peaceful transfer of power. Instead, it was announced that Lula would receive the presidential sash from "the people," and 33-year-old garbage worker Aline Sousa played that role, placing the sash on the new president.
With the green and yellow presidential sash draped across his chest, Lula spoke again, this time to the 300,000 people outside the Palácio do Planalto. He spoke of uniting the country, called for an end to hate and fake news, and promised to end hunger in Brazil.
When speaking of hunger, the president wept.
"It's been a long time since we've seen such abandonment and discouragement on the streets," he lamented. "Mothers digging through garbage in search of food for their children. Entire families sleeping out in the open, facing the cold, rain and fear."
Lula's bounce back
Lula's return to power in Brazil also represents a personal victory for the former trade union leader.
In 2018, he was convicted and imprisoned on controversial corruption charges and spent 580 days in jail before the courts ordered his release.
In 2021, Lula won an important victory when the Supreme Court annulled all convictions against him.
Foreign dignitaries in attendance
Lula's inauguration was also attended by a host of foreign dignitaries. In total, 66 foreign delegations attended, with 19 heads of state, including King of Spain Felipe VI, President Frank-Walter Steinmeier of Germany, and the President of Portugal, Marcelo Rebelo de Sousa.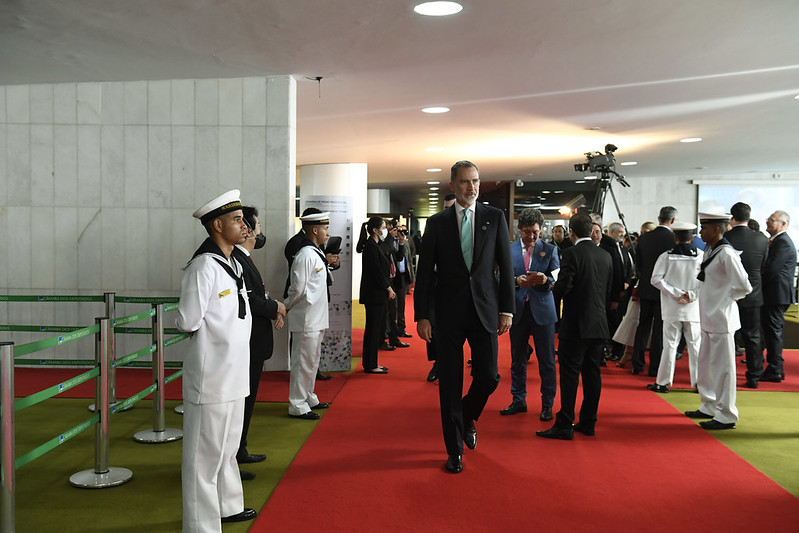 All South American heads of state attended with the exception of Venezuelan President Nicolas Maduro, who cancelled his trip to Brasília without an explanation. During Bolsonaro's inauguration in 2019, his government received 46 international delegations, including 10 heads of state.
The ceremonies ended Sunday night with a dinner offered by the Brazilian government to foreign delegations. For the general public that attended the event, there was a series of concerts with more than 60 singers.
Starting Monday, Lula and his team will officially begin work from the presidential offices.